Recent reports indicated the Atlanta Braves are done talking with the Miami Marlins about J.T. Realmuto, but here is why that would be dumb.
First of all, what does it hurt for the Atlanta Braves to at least stay engaged? Is it that annoying for a general manager to do his job and talk to other teams about possible trades?
If you have a chance to get one of the best catchers in the game, why wouldn't you at least give it your best shot?
According to MLB.com's Mark Bowman, the Braves don't plan to have any further talks with the Marlins about J.T. Realmuto.
In my honest opinion, this is about the dumbest thing I've ever heard. What good does it do if you just quit talking to a team about a player that would be a major upgrade for your team?
Let's get one thing clear, neither Tyler Flowers or Brian McCann are starting catchers. At this point in their careers, they are both back-ups.
Now I know you can make the argument that the Braves have been getting it done with back-up catchers the past few seasons, but ask any coach in the big leagues and they'd rather have a catcher who can start 120-plus games behind the dish.
That's exactly what McCann did for seven straight seasons with the Braves, while hitting at least 18 home runs a season in that stretch. I didn't see people complaining about having a full-time catcher then.
Realmuto can be that guy for the Braves.
And I don't buy into the defensive metrics that Flowers is a great defensive catcher. I watch too many games to know that he drops balls for no reason, and I've never liked McCann as a receiver.
If the front office is no longer pursuing Realmuto because they are content with Flowers and McCann, then that is a huge mistake in my opinion.
On the other hand, if the Braves are walking away because Miami is being ridiculous with it's asking price, then I can somewhat understand. But it still makes sense to stay engaged in case their asking price comes down.
That could especially be true as teams like the Mets and Nationals move on from Realmuto. It seems like Miami is losing suitors quickly, and that could open up a door for the Braves who have the prospects to get a deal done.
Austin Riley appears to be the headliner in any deal for Realmuto. I don't know how the Braves view Riley, whether he's untouchable or not.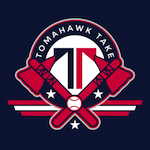 Want your voice heard? Join the Tomahawk Take team!
But whatever the case may be, I think it would be a huge mistake if the Atlanta Braves don't make every effort to acquire Realmuto. I'm not saying they should give up the farm for him, but they need to at least stay engaged until the end.