There was no doubt as to how crucial Nick Markakis was as a leader for the young Atlanta Braves in 2018. His leadership style was not rah-rah but rather 'by example' as Markakis was penciled into the cleanup spot in nearly all162 games for the Braves.
The 4-year contract between Nick Markakis and the Atlanta Braves has now expired.  But at the age of 35 (on November 17th) the question becomes whether or not the qualifying offer of 17.8 million is given.
En route to his first all-star game appearance, Markakis hit .323/.389/.488 with 10 home runs and 61 RBIs in the season's first half.
Those numbers were above the norm for Markakis in a Braves uniform, as he averaged eight homers and 73 RBIs FOR THE SEASON over his other three seasons in Atlanta.
It was not a surprise to see Markakis regress to his "usual" numbers over the second half of the season. He hit .258/.332/.369 with four home runs and 32 RBIs.
There have been reports that the Atlanta Braves will have close to $50 million to spend this off-season and if/when Markakis accepts the qualifying offer, that is a lot to give to a corner outfielder with limited power and declining defensive range (slightly below average according to Baseball-Reference).
I suppose there could be an argument made that gives Markakis a short-term deal and be the stepping-stone to Cristian Pache, a top consensus top 100 prospect, who should be ready for the big leagues at some point during the 2020 season.
But with a young and talented team ready to win now, the Braves need to pursue somebody bigger and better for right field.
It just so happens that Alan wrote recently about Bryce Harper and the possibility of him coming to Atlanta.
Braves fans should be thankful for the presence Markakis was for the Braves over his four years with the organization. He was a leader, solid performer and admirable ambassador during a mostly down-trodden time for the Braves.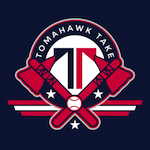 Want your voice heard? Join the Tomahawk Take team!
But it's time to give him a tip of the cap, thank him and wish him best at his next stop.