After a considerable health scare, many were worried former Atlanta Braves reliever Matt Marksberry would never pitch again. Instead, he's having a great start to his winter league season.
Sometimes, the things that take away our favorite players have nothing to do with the game on the field. In the case of former Atlanta Braves Matt Marksberry, it nearly cost him his life.
Blake highlighted the scary issues Matt faced off the field in more depth in his interview with Matt in August. The summation is that in October of 2016, Marksberry went in for a colonoscopy due to stomach pains, and ended up with significant issues during the procedure, including a seizure and collapsed lung, requiring a medically-induced coma.
The Atlanta Braves originally drafted Marksberry in the 19th round in 2013. The lefty moved quickly once he was moved out of the rotation after the 2014 season, reaching the majors by the end of 2015. Injuries were scattered throughout his 2016, but he found his way back to the majors.
Over his minor league time, Marksberry tossed 237 1/3 innings in 103 games, with a 3.49 ERA and a 1.29 WHIP, with a 10% walk rate and a 22.2% strikeout rate. His major league time with the Atlanta Braves did not go so well, posting a 5.06 ERA and 1.65 WHIP over 35 games and 26 2/3 innings.
Marksberry made appearances in the Australian League in 2017 and played Indy Ball in Quebec as he worked his way back to health and back on the mound. His 2018 season was spent on the mound with Lancaster in the Atlantic League, where he posted a 1.82 ERA and 1.46 WHIP over 39 2/3 innings in 45 games, posting a 27/47 BB/K.
Continuing his comeback, Matt is pitching this winter in the Puerto Rican Winter League, which is truly fitting. After a devastating hurricane in 2017, Puerto Rico cut its league nearly in half due to multiple stadiums no longer being usable and travel issues being prominent.
So, both the Puerto Rican Winter League and Marksberry are both working on a comeback, just getting underway in the last two weeks. Marksberry has made 3 appearances thus far in the PRWL, tossing 4 1/3 innings without allowing a run, giving up one run and one walk, striking out two.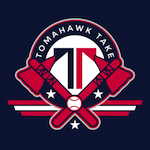 Want your voice heard? Join the Tomahawk Take team!
Here's hoping this is the start of a return for Matt Marksberry, a former Atlanta Braves prospect, to the major leagues. The 28-year-old will hope to find a shot this offseason with a pro club.