After graduating the #1 prospect last season as well as multiple prospects over the last two seasons, the Atlanta Braves still showed up prominently in Baseball America's top 100 list released Wednesday.
The Atlanta Braves have dominated top 100 prospect lists from multiple list providers over the last few years as the team's rebuild produced excellent young prospects. While many of those young players have begun to filter to Atlanta, enough are still in the minor leagues that 8 appeared on today's Baseball America top 100 list.
But first, this…
When reviewing the stats on the BA top 100 list this season, one thing really stood out. The Atlanta Braves had 8 prospects make it, the third season in a row that they've had that number. They were bested, however, by the San Diego Padres and Tampa Bay Rays, who each had 9 players on their top 100 list. Add in the Blue Jays with 7, and those four teams had 1/3 of the 100 players on the list.
Conversely, three teams had no players on the list. It's not the teams you would typically think, though. The Cubs, Yankees, and Red Sox each landed zero players on the list.
Who made it
While the team did not have a player in the top 20, they did have three in the top 25. Here's a list of the players who were selected and where they were ranked:
Impressive that all 8 were in the top 85 prospects on the list!
Who was snubbed
Anytime you see a list like this, there are players that are not on it that some feel should be. For me, there is one incredibly glaring omission, but after that, none that are horribly obvious.
The big one for me is catcher William Contreras. I've been the high man on Contreras for 3 seasons, having him inside my top 30 Atlanta Braves prospects 3 seasons ago, when he was coming out of the Dominican Summer League. However, even with a flux of catchers not seen in many years on a BA list, Contreras was left off in favor of catchers that really are not in his class, in my opinion.
The only other member of my top 10 that did not make the top 100 was Luiz Gohara, and that makes sense, frankly, after the year he had in 2018.
Beyond Gohara and Contreras, one could make a good argument for Kyle Muller, Greyson Jenista, Kolby Allard, and possibly Joey Wentz being part of top 100 lists this offseason, which should make seeing who ends up on various industry lists very interesting over the next few weeks.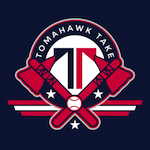 Want your voice heard? Join the Tomahawk Take team!
On that note, one week from tomorrow, I will have an update to my top 125 Atlanta Braves prospect list, and the next day, you can see how many Atlanta Braves make my top 150 prospect list at Call to the Pen!
Last, but not least, we are going to re-institute a fun series we did years ago with Final Friday all prospects questions answered. I'll put together a post on Friday morning this week as it's the final Friday of January, and anything you want to ask on the minor league system is open and I'll do my best to answer!