While Tomahawk Take alum Carlos Collazo and the rest of the Baseball America staff always have great content, the Atlanta Braves have been mentioned quite a bit recently.
Offseason news of Atlanta Braves transactions has been lacking recently, but that doesn't the team has been outside of national coverage. Specifically, Baseball America has covered the team recently. Some of these articles do require a subscription (highly recommended), but we will wrap up a quick summation of important items while not directly quoting.
Alan mentioned the rumor of Christian Pache's availability in trade that came up in the recent Baseball America podcast regarding their top 10 prospects for the Atlanta Braves system. Let's take a look at a few more things that have come recently from BA:
One of the notable takeaways from the Baseball America podcast was that Braves top pitching prospect Ian Anderson still has a significant amount of physical projection left in his body, and that he could even add more to his already incredible repertoire in velocity and power behind his breaking stuff when he fills out his body.
Local writer Gabe Burns contributed a piece to BA on January 2nd on catching prospect William Contreras, who Burns termed as close to "untouchable" as any prospect in the system may be. While BA had Contreras ranked 9th in the Atlanta Braves system, I had Contreras #5 in the fall rankings, and he will be very high in my top 150 that I put together for Call to the Pen coming February 1.
A quick note from the Contreras piece was that Mike Soroka was back to full velocity in instructional league. Soroka had been noted in a couple of reports to have been at or near full health as the season closed in 2018, but this report definitely is positive for certainly the pitcher who should be the front-runner in a big battle for the 5th spot in the rotation as the team is currently constructed.
While an older article (November 2nd), J.J. Cooper of BA covered the Atlanta Braves leadership training camp, named Tamahakan. The program is an invite-only leadership program that brings in members of the team to challenging physical activities that require a player to step outside of his box and push his limits in all facets. Braves officials credit the program with allowing them to be aggressive in promoting their top prospects.
BA also recently came out with their list of minor league pitchers that registered 100+ MPH on the season. The Atlanta Braves had just one pitcher on the list, Luis Mora, who spent much of 2018 injured, pitching just 6 innings and struggling mightily in those innings, allowing 11 hits, 7 walks, and 11 runs. A number of other Braves prospects have topped the triple-digit mark at some point, but not officially in a game in 2018, so they didn't make this list.
Last, but certainly not least, Cooper also reported yesterday that Carter Stewart, the Braves selection at #8 in the 2018 draft that did not come to terms with the team, is enrolled in a junior college. While this doesn't directly mean that the grievance filed by Stewart to become a free agent will go the Braves way, it certainly has to give some feeling that Stewart feels he may not win the case and needs to ensure he gets enrolled to be drafted.
To pair along with that news, Carlos Collazo released the first mock draft of the season for BA. In a draft loaded with excellent hitting talent, he had much of the elite of that talent going ahead of the Braves at #9, and the team selected Duke lefty Graeme Stinson with their first selection. With the 21st pick, Collazo has the Braves going back to the pitching well with Florida high school righty Matthew Allan.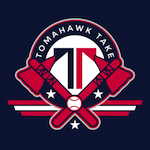 Want your voice heard? Join the Tomahawk Take team!
There are plenty more great pieces from different sources out there, but Baseball America has been covering the Atlanta Braves very well of late!