In October we explored the top 125 prospects in the Atlanta Braves system. Today, we update that list.
The Atlanta Braves have one of the deepest farm systems in all of baseball, and for the past four offseasons, I have put together a top 100+ list of Atlanta Braves prospects. Rather than put out an "others to know" post this year, I just ranked an additional 25.
This is the least amount of player turnover the list has seen from its October release the last four seasons to its late January/early February update each year. However, in that time, I have received plenty of new information, the Arizona Fall League was held, as were winter leagues, and those new to the system do need to be added in, so without further adieu, here's the new list!
Top 10
1. Mike Soroka, RHP
2. Ian Anderson, RHP
3. Cristian Pache, OF
4. Touki Toussaint, RHP
5. William Contreras, C
6. Kyle Wright, RHP
7. Austin Riley, 3B
8. Drew Waters, OF
9. Bryse Wilson, RHP
10. Luiz Gohara, LHP
Same players here, with the change in order among the last three after watching a lot of video on Waters. I worry on reliever risk with Bryse, but he's talented enough that it shouldn't be something that is worried about for a while as the Atlanta Braves push his development as a starter as long as they can.
#11-25
11. Kyle Muller, LHP
12. Kolby Allard, LHP
13. Greyson Jenista, OF
14. Joey Wentz, LHP
15. Tristan Beck, RHP
16. CJ Alexander, 3B
17. Patrick Weigel, RHP
18. Huascar Ynoa, RHP
19. Freddy Tarnok, RHP
20. Alex Jackson, C
21. Tucker Davidson, LHP
22. Chad Sobotka, RHP
23. Izzy Wilson, OF
24. Trey Riley, RHP
25. Victor Vodnik, RHP
A few shuffle into this range that weren't here but were lower on the list earlier in the offseason. Notably jumping are Jackson after some very impressive reports on him and his defensive work in 2018. While his bat stagnated in 2018, if that was due to such a big leap forward with his glove, he could have a legit chance to work as a backup in 2020. Vodnik is the other guy who has notably jumped as the reports on his ceiling are absolutely incredible, and the more video I see, the more I like!!
#26-50
26. Jefrey Ramos, OF
27. Riley Delgado, SS
28. Ray-Patrick Didder, IF/OF
29. Wes Parsons, RHP
30. Jeremy Walker, RHP
31. Corbin Clouse, LHP
32. A.J. Graffanino, SS
33. Thomas Burrows, LHP
34. Jasseel De La Cruz, RHP
35. Braulio Vasquez, IF
36. Jacob Webb, RHP
37. Jose Rafael De Paula, RHP
38. Justin Dean, OF
39. Nolan Kingham, RHP
40. Derian Cruz, IF
41. Matt Rowland, RHP
42. Troy Bacon, RHP
43. Travis Demeritte, IF/OF
44. Dilmer Mejia, LHP
45. Josh Graham, RHP
46. Drew Lugbauer, C
47. Gabriel Rodriguez, LHP
48. Alejandro Salazar, IF
49. Braxton Davidson, 1B
50. Matt Withrow, RHP
De Paula is the first player new to the organization that shows up on the list. His power arm could be incredibly useful if the Braves can harness it. There are a number of power relievers at this level, another definite surplus in the organization that few tend to recognize.
#51-75
51. Luidemid Rojas, SS
52. Walter Borkovich, RHP
53. Odalvi Javier, RHP
54. Alex Camacho, RHP
55. Luis Valenzuela, IF
56. Philip Pfeifer, LHP
57. Michael Mader, LHP
58. Elian Leyva, RHP
59. Trey Harris, OF
60. Hayden Deal, LHP
61. Tyler Neslony, OF
62. Brooks Wilson, RHP
63. Jason Creasy, RHP
64. Luis Mora, RHP
65. Luis Marte, IF
66. Christian Zamora, OF
67. Alan Rangel, RHP
68. Lucas Herbert, C
69. Yoeli Lopez, RHP
70. Griffin Benson, 1B
71. Jonathan Morales, C
72. Alger Hodgson, RHP
73. Carlos Paraguate, IF
74. Keith Weisenberg, RHP
75. Andrew Moritz, OF
One of the big movers in this portion of the list is Alex Camacho, who is a hulking man on the mound and has all the mound presence and raw stuff to be just that intimidating on the mound. Zamora is a very good one to keep an eye on. He has an incredible amount of raw talent and could be a guy that turns into an impressive player down the road.
#76-100
76. Jake Higginbotham, LHP
77. Connor Johnstone, RHP
78. Tanner Lawson, LHP
79. Asmin Bautista, OF
80. Henry Quintero, OF
81. Jeremy Fernandez, OF
82. Michael Mateja, Util
83. Brandon White, RHP
84. Nicholas Shumpert, IF
85. Justin Smith, OF
86. Jon Kennedy, LHP
87. Jose Montilla, RHP
88. Kevin Josephina, IF
89. Ray Hernandez, 1B
90. Kelvin Rodriguez, LHP
91. Logan Brown, C
92. Rusber Estrada, C
93. Jose Olague, RHP
94. Antonio Sucre, OF
95. Eliezel Stevens, IF
96. Gary Schwartz, OF
97. Riley Unroe, IF
98. Filyer Sanchez, LHP
99. Albinson Volquez, RHP
100. Greg Cullen, IF
One guy I neglected by accident in my first list is Kelvin Rodriguez. While older for a guy at the levels he's been at due to signing late, Rodriguez has been putting up tremendous numbers, including saving 13 with Rome in 2018 over 59 1/3 innings with 66 K and a 2.73 ERA.
101-125
101. Mitch Stallings, LHP
102. Jason Hursh, RHP
103. Daysbel Hernandez, RHP
104. Matt Hartman, RHP
105. Ronaldo Alesandro, RHP
106. Ryan Shetter, RHP
107. Walner Polanco, LHP
108. Daniel Lockhart, IF
109. Tanner Allison, LHP
110. Darling Florentino, 3B
111. Brendan Venter, IF
112. Zach Seipel, RHP
113. Eudi Asencio, RHP
114. Brett Langhorne, IF
115. Shean Michel, OF
116. Javier Ciriaco, RHP
117. Miguel Jerez, LHP
118. Ricardo Rodriguez, C
119. Gabriel Noguera, LHP
120. Carlos Caminero, LHP
121. Brandol Mezquita, OF
122. Lisandro Santos, LHP
123. Charles Reyes, OF
124. Hagen Owenby, C
125. Bradley Roney, RHP
Some very intriguing players here. Polanco is another towering bullpen arm that could be very fun to watch. Florentino is another one that is going to be very interesting to watch in 2019 to see how he develops as he has very good defensive skills, and he could put together just enough offense to be a viable major leaguer.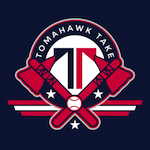 Want your voice heard? Join the Tomahawk Take team!
So that's it! Look for another piece today on ways to track all of these Atlanta Braves prospect lists. Any debates about the altered order? Anyone missing?! Comment below!!