The 24-year-old spent time at third & first for the Atlanta Braves over 3 seasons but has yet to pan out for the club
In case you missed it yesterday in the midst of the first day of winter meetings and rumors, the Atlanta Braves actually had a roster change Monday. Infielder Rio Ruiz was claimed off waivers by the Baltimore Orioles and thus put the Braves' roster count at 39 players.
This helps the Atlanta Braves trim down the list of expendable players now that they are in the phase of acquiring "big guns" to help the team for next season. By moving Ruiz, their roster now has an open seat similar to when they DFA'd Ricardo Sanchez and Adam McCreery for newly signed Brian McCann and Josh Donaldson. Now if they were to get a front-line starter or starting OF, they'll easily slot right in.
Ruiz came over with Mike Foltynewicz (and Andrew Thurman) during the trade that sent Evan Gattis to the Houston Astros. With the Braves, he has spent time at AA, AAA and brief moments with the major league club, appearing in 72 games overall.
He always showed potential throughout the system but never really showed consistency in Atlanta.
For 2018, he hit .269 at AAA Gwinnett with 9 homers and 72 RBIs. However, when he was recalled to Atlanta, he only got a hit in 12 ABs as a bench bat. He did make one start at third for Atlanta.
In the 3 seasons with the Braves, he has played first, third, LF, RF and DH  down in the minors but only first and third in majors.
There were times where some thought he could be the future at third or at least have the starting role until Austin Riley takes over but again never found the consistency. That plus the rise of Johan Camargo, who outshined Ruiz both defensively and offensively.
Ruiz was always in the wings waiting but the club continued to add other utility names like Ryan Flaherty and Charlie Culberson and thus kind of made Ruiz the odd man out. Plus the Atlanta Braves now adding Josh Donaldson.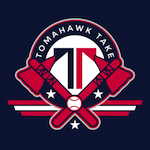 Want your voice heard? Join the Tomahawk Take team!
The Orioles have gone into their own rebuild which will give Ruiz some playing time.