The solo walk-off home run from the Atlanta Braves prospect in the 11th inning won the Arizona Fall League Championship for Peoria
Atlanta Braves' 1B/OF prospect Braxton Davidson has been playing some of the best baseball he has ever played since being drafted by the team. He still has a low average (.227) but was making more contact with the bat and has 7 home runs (including the one for Saturday).
Davidson was a former first round draft pick by the Atlanta Braves in 2014 out of high school as a compensatory pick after C Brian McCann signed with the New York Yankees.
It was the same draft that included other now-Braves LHP Sean Newcomb, RHP Touki Toussaint, and C Alex Jackson.
The now 22-year-old hasn't exactly developed into the player the Braves were hoping but signs of hope showed in his time in the AFL. This included hitting 5 home runs in 1 week!
In those 18 games for Peoria, he hit those 7 homers, knocked in 18 RBIs and couldn't cap it off any better than hitting the walk-off home run to win the championship.
Salt River actually had a 2-0 lead heading into the 9th inning before Peoria came back with a big 9th to tie the game.
On a 2-1 count with an out in the 10th, Davidson took one off Washington Nationals' LHP Taylor Guilbeau for a rocket home run. As Davidson was rounding 2nd base, you can see the joy on his face. San Diego Padres' OF prospect Buddy Reed couldn't believe it as he was celebrating and holding Davidson's bat.
However,  it wasn't exactly all joy because Davidson injured himself in the last stretch between 3rd base and home plate. By the half-way mark, he had begun to hop home on one foot. Check it out below:
An update after Davidson was helped into the dugout seemed to show he was somewhat okay, able to express joy of winning and putting up a thumbs-up.
This immediately reminded a lot of folks on Twitter of the infamous 'Walk Off Grand Slam Injury' by Kendrys Morales for the Los Angeles Angels which can be linked to the decline of his career.
Hope it wasn't too serious and Davidson can still continue to improve his game. He'll have time to rest and heal now that the season is over.
An update came out on Sunday that the initial x-ray shows only a mid-foot sprain but he'll have an MRI on Monday to possibly confirm it.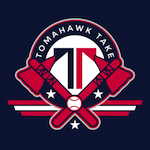 Want your voice heard? Join the Tomahawk Take team!
The Braves also had other players playing for Peoria including Christian Pache, Kyle Muller, Ray-Patrick Didder, Izzy Wilson, Thomas Burrows, and Jeremy Walker.