Atlanta Braves General Manager Alex Anthopoulos said earlier in the offseason that his infield was set, due to the progress Dansby Swanson and Johan Camargo made last year. Yeah, so about that…
The Atlanta Braves agreed to a deal with former MVP, Josh Donaldson, on a one-year, 23 million dollar deal, pending physical. Ken Rosenthal reported the figures, while Steve Phillips first had that a deal was close
Welcome to the offseason.
Everything was quiet before Thanksgiving for the Atlanta Braves, but oh my, did things get loud in a hurry.
Minutes before agreeing with Donaldson, the Braves signed Brian McCann to a one-year contract
There is history between Anthopoulos and Donaldson as the Braves GM traded for the former MVP before the 2015 season when he was in Toronto.
Whew!
There is a lot to digest here, so let's dig in.
What does this mean for Donaldson?
Yes, he was hurt for the majority of last season, but the common belief was that Donaldson would still get a multi-year contract, based solely on history.
From 2013 to 2017, the former MVP averaged 33 home runs, 98 RBI and an OPS of .901, which led to his record arbitration figure last season of 23 million.
So why sign a one-year deal at the age of 33 (on December 8th)?
That's an interesting question, but it would suggest that Donaldson thinks he can get back to his former self in 2019, reestablish himself for next offseason and still command a multi-year deal at close to nine figures.
At this point, I don't care what he thinks. He's a Brave and gives Freddie Freeman much-needed protection.
What does this mean for the infield?
Common sense would suggest that Camargo is now the super-utility, depth-providing player that Anthopoulos covets. He would join, as things currently stand, Charlie Culberson as players that can play all over the diamond.
Depth, as we saw against the Dodgers, is crucial for success, so this would be the route I would take.
Also, if Donaldson cannot stay healthy, then you have an insurance policy in Camargo.
BUT…
Perhaps the Braves are selling high on Camargo's season in 2018 and try to package him with prospects to address other needs?
Keith Law has pointed out that Camargo is a poster child for increase power due to the configuration of the baseballs that led to record-setting home runs by teams.
His minor league high in home run totals was in 2017 and that was six. He hit 19 last year as the everyday third basemen (from June until the end of the season).
ANOTHER BUT…
What if this means the Braves are moving on from Swanson and either Ozzie Albies or Camargo plays shortstop next season?
While this would go against the desire Anthopoulos has for defense, it would make some sense considering how ineffective Swanson has been at the plate.
Like we all expected, this signing came out of nowhere. I was expecting the power increase to come from right field (and it still might), not a former MVP, who will be trying to prove his worth.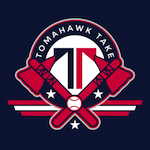 Want your voice heard? Join the Tomahawk Take team!
What a great day for the Atlanta Braves!