The Atlanta Braves had ChopFest this weekend, and that spurred quite a bit of discussion around the blogosphere.
The Atlanta Braves blogosphere is usually pretty healthy in content. When the Braves have ChopFest, it spurs plenty of opinion!
At Around the Big Leagues, Grant McAuley began his preview of the 2019 Atlanta Braves, position-by-position, with the catchers, which is a position that could still be in flux! Rob over at Braves Journal took on the same task, looking at the Braves 2019 catchers.
Also at Braves Journal, Rob counted down the top 5 moments of the 2018 season, which would be incredibly difficult to do…just select 5, that is.
Andy Harris at Outfield Fly Rule began a series of posts on organizational depth in the at each position from the majors down through the minors, starting Wednesday with first base, and then continuing with second base, third base, and shortstop.
The guys of Walk Off Walk continued their top 50 prospect countdown with #31-40 on their list. Tommy Poe also covered the interesting Marwin Gonzalez signing that wasn't.
Over on Braves Reddit, the community responded with two threads on the new uniforms introduced this weekend, one thread on the blues and another thread on the reds.
The minor league crew over at Talking Chop presented their top 30 Atlanta Braves prospects over the course of the last week. I'll link to the top 6 post, but the entire week had the rest of their top 30, and they are all linked in the top 6 post.
The Talking Chop crew also had a pair of excellent interviews with pitchers in the Atlanta Braves system. The first was with left-handed reliever Corbin Clouse, who I've also had the opportunity to interview as well and is a GREAT interview! Their second interview of note was with Patrick Weigel. Give both of them a look!
Over at SportsTalkATL, Chase Irle was looking at the Vegas win total for the Atlanta Braves and wondering why it was so low. Harrison Coburn considered whether the Braves could actually pull off a deal for Corey Kluber with the news that the Padres may only get Kluber in order to flip him.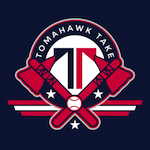 Want your voice heard? Join the Tomahawk Take team!
That's a good look around the Atlanta Braves blogs for this past week. Anything we missed? Want your site included? Comment below!